An Ordinary Day In The Car Capitol
Or not so ordinary. This was not the usual fender-
bender.
Witnessed a big bang involving two or three vehicles
and almost a tourist faux Red Car on wheels.
When the SUV driver grabbed a child from his vehicle
to flee the scene, and a large family exited a small
compact and began yelling at anyone near, and the
pickup truck was jammed between a fence and a hard
spot, decided to put the iPhone to work.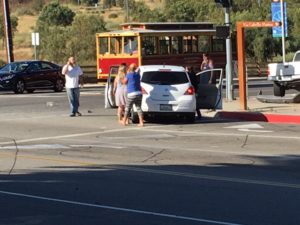 SUV was abandoned, the compact loaded up and
drove off, so when cops arrived, approached a nice
officer and offered pix of disappeared parties.
He: What's your ID?
Me: My license number is —
He: What's you height and weight?
Me: Wait a minute. I'm here being a good citizen,
and you're going to ask me how much I weigh?
WTF is that?
Tags: My Granny never said it truer: No good
deed goes unpunished.