Attention All Chihuly Lovers:
Quick note:
Catalina's new museum has a fresh and sensational
exhibit of stunning Chihuly pieces installed
beautifully in a new, sleek, clean building.
It's a great day trip to ged oudda L.A.
Here's a link:
https://www.catalinamuseum.org/exhibitions
But never fear. Catalina will always be that
endearing dive-y sort of place. It can't help
itself.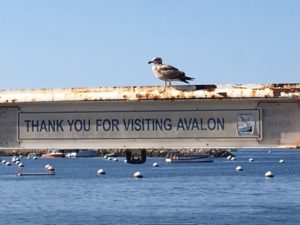 Nice, new white art museum, and note the rusty,
beat-up, grizzled farewell.
WTF is that?
Tags: Lots of us are schizoid. Why should Catalina
be any different?
Campers/hikers and boozers/dissolutes. You'll see us
all there.
And also right now, Chihuly!